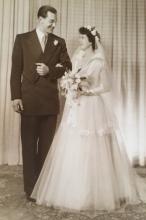 THE SAD PASSING OF JANIS SHIPP –April 5th 2020
Readers will be saddened to learn of the recent passing of Janis Shipp, the wife of former Yallourn's champion ruckman Laurie.
Janis passed away on 5th April at Japara Goonawara Aged Care Facility in Sunbury after a long battle with illness.
Janis, who was born on 1st November 1932 in North Melbourne, met Laurie at Bible classes which were held at the back of the Presbyterian Church in North Melbourne 1947. Janis and Laurie were later married at that same church. There will be many former residents of Yallourn who will have fond memories of the Shipp family; and our deepest sympathies are extended to Laurie, Ross, Deb and Leeanne on this sad occasion. 
Articles about Laurie Shipp,  his life and family can be found on this website at : http://www.virtualyallourn.com/node/24508 and also at: http://www.boylesfootballphotos.net.au/article50-Laurie-Shipp-Yallourn-Football-Club