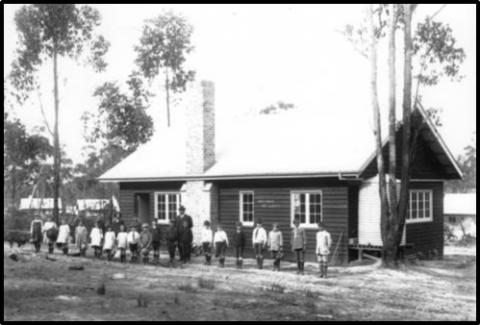 This photograph is said to have been taken in 1922. The first school at Yallourn was a weatherboard cottage at 4 Hillside. Source: 'Virtual Yallourn'
1922 - Yallourn State School
NOTES ON EARLY DAYS OF SCHOOLING AT YALLOURN 
It is one hundred years ago since the first school in Yallourn was opened. In the '1921 SEC Report on the 'Establishment on Township at Yallourn' there are several clauses related to 'Sites for Educational Purposes' which refer to the provision of a primary school and …
"…for a secondary or technical school, for, as the district develops, the Education Department may see fit to make Yallourn a centre for technical instruction."      
An early reference to the establishment of a school in the town of Yallourn was found in 'The Age' (January 25th 1922)…

"Seven acres have been reserved for a primary school…"

According to the Virtual Yallourn website, the first school at Yallourn was opened on February 13th 1922.

The building, as shown above, was located at Number 4 Hillside.

Mr Tysoe (a relieving teacher) was the first headmaster. Sometimes Tysoe was written in error as 'Tyson.'   

On April 1st 1922, Mr Flanagan replaced Mr Tysoe.

According to 'Vision and Realization', Mr Joseph Dobrigh became the headmaster in 1923.

It is reported that attendance at the school increased steadily throughout 1922 and had reached 77 pupils by December. Enrolments at the school increased to 139 pupils by the end of 1923.
To continue reading this article, please click on the pdf link below....