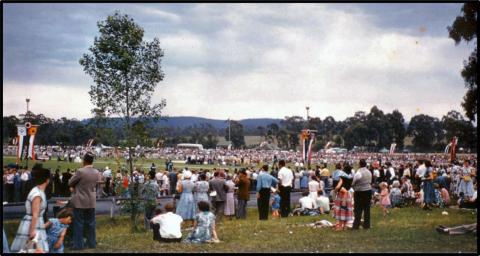 IMAGES OF YALLOURN
1956 - 'LITTLE OLYMPICS'  CARNIVAL AT  THE  YALLOURN OVAL
Julie posted this photograph on the Virtual Yallourn website in October 2010; and the coloured banners, summer dress styles, massive crowd and the tree lined background suggest that the photograph was probably taken at the Little Olympics at Yallourn in 1956.
Click on the link (below) to the full pdf article where there are extracts from metropolitan newspapers which will give younger readers some background understanding of the 'Little Olympics'; and the lengths to which the Yallourn Amateur Athletic Club went to in making the event such a resounding success.
The text to one of the articles reads:
Only a dream two years ago, now...
YALLOURN TO GET LITTLE GAMES
MORWELL, Monday: The little Olympic Games are coming to Yallourn, the little country town which is the heart of Victoria's power and light. What seemed a dream two years ago is coming true on December 2.
Local amateur athletic club members are frequent visitors these days to Olympic Village, calling on managers of world teams and inviting entries for a Yallourn athletics meeting the day after this section of the Games finishes at Melbourne.
Harry Hopman will officially open the Yallourn Games. Managers of the visiting Games teams have still to select their teams, and Yallourn will know later this week who will take part in the Little Olympics.
Promises have been given from Russia, Italy, Greece, and entries have been made by Liberia, Burma, India, England, Australia, the Argentine, Uruguay, and Nationalist China.
A crowd of more than 20,000 is expected at the Yallourn meeting, which has the support of the whole town.
A special train will run from Melbourne for athletes, managers, and visitors.
THE RESULTS OF THE LITTLE OLYMPICS AT YALLOURN IN 1956
Click on the pdf link below to continue reading this article.....