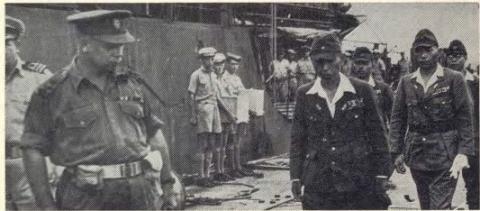 Caption: 'As the officer escort for Japanese military and naval commanders at the official surrender ceremony at Torokina, New Guinea on September 8th 1945.'
This rarely seen photograph is part of an article in a 'Contact' magazine related to the life of Brigadier John Field. Brigadier Field was the General Superintendent of the Latrobe Valley Region of the SECV from 1951-1964 and a resident of Yallourn (at 23 Reservoir Road) for many years.
To read more about Brigadier John Field and the 'Yallourn connection':
1. Type the word 'Contact' in to the Search box above (right hand side of the screen).
2. Hit 'Apply'
3. Scroll down until you find the 1974 June edition of 'Contact' (page: 3).
The Field family played an active part in the life of the township. A comprehensive newspaper article about the 'Fields of Yallourn' and other photographs of the family can be found on this website.
Note: For readers wishing to know more about John Field's life, the on-line 'Australian Dictionary of Biography' carries an outstanding summary of Brigadier Field's achievements.