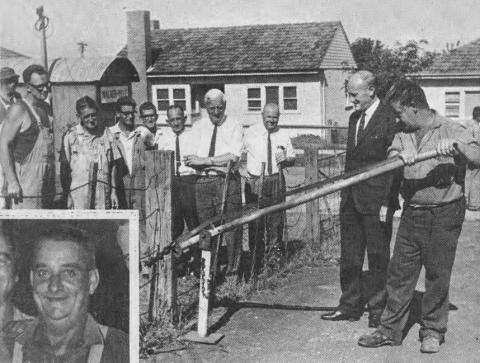 If you would like to read more about this clever idea go to: The April edition of the 1969 'Contact' magazine. This can be found on this website by simply clicking on the tab above "Magazines" and scrolling to the April 1969 copy or by typing the word 'Contact' in the Search field (above) and then scrolling down through the various editions of the magazine.
THIS PHOTOGRAPH WAS TAKEN 50 YEARS AGO… CAN YOU HELP?
This photo was taken in Yallourn about half a century ago. It is an enlightening piece of local history for the Virtual Yallourn files and it would be nice to put names to the above faces.
It is known that Mr Roy Norden is in the centre of the photograph; and it is thought, but not definite, that Mr Cleverly, Mr Hyde and Geoff Unwin are in the background. If any readers can help in recognising the other men, shown in photograph, please contact Julie. Thank you.
Hi In the photo bottom left side it looks like Bill Drummond ,who was a BlackSmith at The Municapul Depot ,centre of main Photo fellow with glass's is Johnny Walker . his name is also on the workshed in the back ground , he was a carpenter . Maybe Bill Drummond in main photo with the post remover tool ???