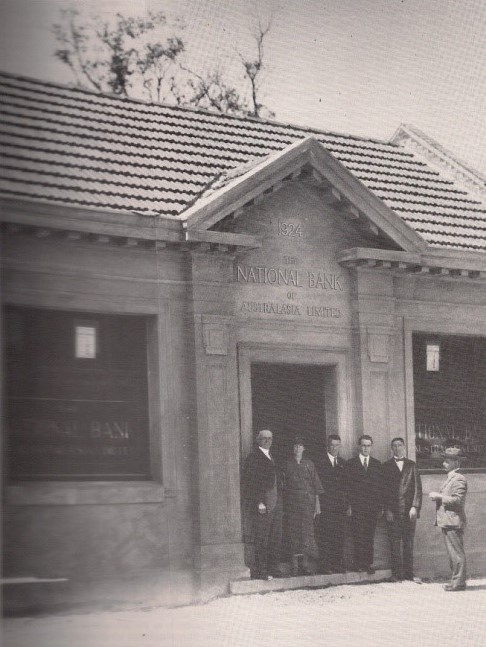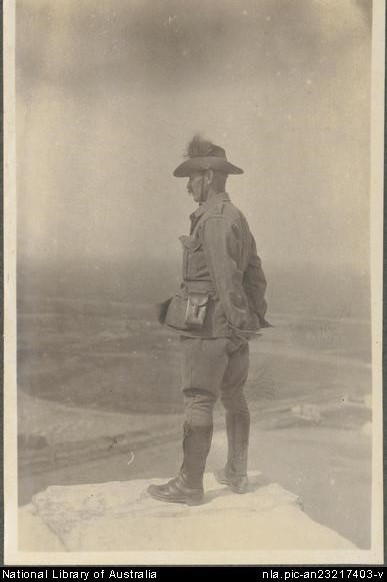 1935 - JAMES PINKERTON CAMPBELL
The following obituary to James Pinkerton Campbell was published in the 'Morwell Advertiser' in September 1935 and gives an insight into the life and times of one of Yallourn's most extraordinary personalities.
James Campbell carved a prestigious name for himself in Australian history as a photographer during the Great War; and his contribution to Yallourn during the period 1920-1934 was highly significant and of lasting value.
It is hoped that this article for Virtual Yallourn assists in shining a brighter light on the deeds of another notable person in Yallourn's rich history.
Regarding the life of James Campbell, it is not unfair to ask: "Did the people of Yallourn actually appreciate the life and achievements of the man who always wore a hat and carried a camera?" It seems that James Pinkerton Campbell was a humble man and the classic example of a 'quiet achiever.'
________________________________________________________________
12th September 1935 'MORWELL ADVERTISER' Page:9
OBITUARY
MR J. P. CAMPBELL
Although the death of Mr James Pinkerton Campbell, who had been in ill health for some considerable time, was not unexpected, general regret was experienced at the news of his decease at the home of his son, Mr A. J. Campbell at Murrumbeena on the 5th September.
Mr Campbell, who was 70 years of age was born in Gippsland, in which he spent most of his life. He was at one time a traveller for Henry Berry and Co. and also for some years in business at Mansfield.
Mr Campbell joined the State Electricity Commission in May 1920 whilst acting as Chief Clerk for the Mines Department at the Brown Coal Mine. At first his work was not full time and it was not till the beginning of December 1920 that he took over as Chief Clerk in the first small office of the Commission at Yallourn in the newly created e Main Store at the Eastern Camp.
The Provision Store was opened shortly after and Mr Campbell was in charge of its operations. The extension of the Store business to the West Camp and town, and its growing importance, led to his appointment as Trading Manager for the Store and his relinquishing his position of Clerk in Charge at the Main Office in 1929.
From 1920 to 1933, he acted as Editor of the 'Live Wire.' Failing health led to his resignation at the end of November 1934. Since his resignation, his health had gradually failed and the unfailing optimism and fortitude with which he met his affliction and suffering was the wonder of his many friends.
Mr Campbell was a man of high business principles and won many friends by his integrity and loyalty. He was a prominent mason and whilst in Yallourn was interested in and a patron of many town activities included amongst which was the Bowling Club, of which he was a keen player and member; the Fire Brigade of which he was a Trustee, and the A.N.A. of which he was an honorary member and one of the Trustees of the Yallourn Branch.
In an unostentatious way, he was a well-known supporter of many sporting clubs and other town institutions. He was an enthusiastic and talented photographer and many of the pictures taken by him rank high as examples of the artistic work that can be produced with the camera. He was a returned soldier having been a Lieutenant in the 8th Light Horse and saw service as an official photographer during the war in Palestine.
The funeral took place in the Yallourn Cemetery on Friday, 6th inst. The cortege, which was a lengthy one of about 30 cars, proceeded from Morwell to the cemetery.
Many beautiful wreaths and floral tributes covered the coffin and Masonic brethren from the Morwell Lodge acted as the Pall Bearers. The service at the grave was conducted by the Rev. E. F. Cooper of the Church of England. A Masonic service was also conducted by Mr E. Hall, Senior Deacon of the Morwell Lodge, and the Returned Soldiers observed the usual ceremony of placing the poppies of remembrance in the grave.
FOOTNOTES
EARLY YEARS 1865- 1911
1. James Pinkerton Campbell was born in 1865 in South Yarra. His early years were spent in Gippsland where it is believed that his father worked on the land before becoming a school teacher.
2. According to one source, James was an apprentice blacksmith; and he later moved to the city where he was employed as a clerk with the Victorian Railways.
3. James was married (possibly to Elizabeth Blanch Parsons). It is a little confusing regarding their offspring as one source said they had four children; while another text said that their only child was a girl named Vera Blanch who was born in 1892. It is stated that James and his family were living at Murrumbeena in the 1890's.
4. Sometime in the early 1890's, James enrolled at the Working Men's College (better known as RMIT today) and developed a strong interest in photography. He joined the WMC Photographic Club; and it is stated that he won prizes for his studies in photography.
5. In 1909 he worked at Vallan's Studios in Mansfield as a professional photographer and he travelled throughout the district in his work for the studio.
6. In 1911 James was employed with Commonwealth Department of External Affairs and his projects included gathering images of life in the Northern Territory
JAMES SERVES WITH THE LIGHT HORSE DURING WORLD WAR: I
7. The available World War: I records indicate that at the time of enlistment (February 1915), James was 45 years of age, married and his given address was in Malvern. His service number was 193, duties were listed as: 'signaller' and he was member of the 8th Light Horse Regiment.
8. One lone source said that James lowered his age at the time of enlistment; but that comment requires needs further validation to be deemed accurate.
9. The 8th Light Horse Regiment (aka LHR) eventually part of the 3rd LHR, took part in several major campaigns at Gallipoli, Sinai Desert, Gaza and the famous battle at Beersheba.
10. James was wounded at Gallipoli and, for some time during his rehabilitation, worked with the Pay Corps in Cairo.
11. It was in that period that James won a handsome reputation as a war photographer; and he became a noted 'soldier-photographer' at Gallipoli and later rose to become the official photographer in the AIF's Middle East campaigns.
12. James gained promotion to the rank 'Honorary Lieutenant' and was appointed as photographer with the Australian War Records Service. James became the official War Photographer for the AIF in 1918. He took over from one of Australia's most celebrated photographers Frank Hurley.
13. James took hundreds of photographs of various aspects, battles and events during World War: I; and 392 of these images can be seen on the Australian War Memorial website…. www.awm.gov.au
14. A further 184 of his photographs, taken during the Great War, can be viewed at the National Library of Australia website… www.nla.gov.au
15. Some of James' finest photographs are also contained in the 'Official History of Australia in the War of 1914-18' by C.E. W Bean.
16. James returned to Australia in 1919 and according to Ina Bertrand* (see below), James preceded Bert Ive as the official Commonwealth Cinematographer. Note: Bert Ive (1875-1939) was a pioneer in the field of Australian documentary films production.
THE YALLOURN CONNECTION
17. James Campbell's name first appears in Prue McGoldrick's authoritative writings of Yallourn in 1920, when he worked as a timekeeper at the mine…
"…who took on the work in addition to his duties as clerk with the Mines Department." 'Yallourn Was' Page 8.
18. As mentioned in the above obituary, James was a highly energised and active resident of the town and his innumerable photographs are a lasting legacy to his fifteen or so years as a resident in Yallourn.
19. J.P. Campbell's photographs of Yallourn can be found dotted throughout various books and the web. Sadly, his work is often not acknowledged by users and this fails to do justice to his brilliance as a photographer.
20. There is a photo in 'Yallourn Was' of James standing with the staff of the National Bank sometime in the early 1920's.
21. It is recorded that James' 'famous hat' was used as a collection plate at the first service of the Yallourn Anglican Church in 1922.
JAMES CAMPBELL - EDITOR OF THE 'LIVE WIRE'
22. The 'Live Wire' was originally published in 1925. Walter Cardiff Mead was the first editor and James Campbell followed in that capacity (1929-1933).
23. As stated above, James was a member of the Yallourn Bowling Club and was also Vice-President of the Yallourn Fire Brigade Cricket Club.
24. A trophy for contestants in local lawn bowling competition was named in honour of J.P. Campbell.
25. In 1923, a book which included the works of J.P. Campbell was published. Its lengthy title was: 'Photographic record of the war reproductions of pictures taken by the Australian official photographers (Captains G.H. Wilkins, M.C., and J.F. Hurley, Lieutenants H.F. Baldwin and J.P. Campbell) and others/ annotated by C.E.W. Bean and H.S. Gullett.'
26. In 1932, James provided photographs for a booklet which was published to assist in a fund-raising drive for the Yallourn Hospital.
27. James resigned as store manager at Yallourn in 1934. It is documented that he was suffering from cancer and was ill for some time before his death.
28. In 2010 Alan Harding of Monash University wrote a major thesis about James called ' J.P. Campbell: Pictorial Photographer at Home and at War.' The work contains 184 black and white photographs and also includes chapters on the Desert Campaign and life in the early days of Yallourn. For anyone interested in reading the document it is held at the Monash University Library. The summary of Alan Harding's work, as found in the National Library of Australia, is printed in full below…
THE COMPLETE SUMMARY OF ALAN HARDING'S THESIS RE: JP CAMPBELL
AS PUBLISHED BY THE NATIONAL LIBRARY OF AUSTRALIA IN 2010.
"James Pinkerton Campbell (1865-1935) was a landscape photographer, inaugural Commonwealth photographer, soldier photographer on Gallipoli, official war photographer in the Middle East and photographer for the State Electricity Commission of Victoria. This thesis researches the life and photographic career of JP Campbell, to explore the photographs he took and the circumstances in which they were created.
A committed pictorialist whose dedication to photography as art was often at odds with the requirements of his record-seeking employers, Campbell's career was sometimes turbulent, his clashes with bureaucracy leading to dismissal. Research revealing Campbell's life and career contributes to discussion on how our photographic collections - the images that form part of our collective memory and national heritage - are constructed.
Knowledge of Campbell and his work has been fragmented, with many of his photographs in libraries, archives and collections throughout Australia not attributed to him. Through locating and researching Campbell's photographs and career, this thesis provides an overview of his work. It links the photographer of misty Victorian valleys with the photographer capturing Northern Territory agricultural scenes, the signaller photographing stricken officers after the charge at the Nek on Gallipoli, the official photographer taking haunting images of the Australian Light Horse on the push to Damascus, and the photographer recording the steam-shrouded open cut coal mine at Yallourn.
The thesis considers Campbell's legacy and his contribution to Australia's photographic history. Through researching a biography of JP Campbell, important themes in Australian history are also explored, including the role of photography in government-sponsored land settlement, the work of the Australian War Records Section, the creation of 'official' and 'unofficial' images of Australia's World War One military service, war and national identity, and interwar industrialisation and modernity."
ACKNOWLEDGEMENTS & THANKS
The following resources were used in the research of the life of J.P. Campbell for the Virtual Yallourn website…
1. 'Yallourn Was' by Prue McGoldrick.
2. National Library of Australia.
1. Australian War Memorial.
2. Alan Harding: 'J P Campbell: Pictorial Photographer at Home and at War.'
3. www. territory stories.nt.gov.au
4. Various editions of the 'Morwell Advertiser' and 'The Argus' newspapers.
5. The 'ancestry' website.
6. ANZACs online.net.au.
7. *Ina Bertrand, mentioned above, is the Principal Fellow in the Cinema Studies Program at Melbourne University.
8. www.Cinematography.org. au
CAN ANY READERS HELP?
Note: It is hoped that this article for the Virtual Yallourn website may spark interest in the life and work of James Campbell; and any readers who unearth photographs of Yallourn, taken by J.P. Campbell, are kindly encouraged to contact Julie. Thank you.
The research, validation and footnotes for this story were completed by Roger Spaull and presented and posted by Julie George for the Virtual Yallourn website in March 2019.
The above article from the 'Morwell Advertiser' has been faithfully reproduced. The only amendments to the original copy are the font style, font size and spacing, so as to enhance the article for purposes of posting on the Virtual Yallourn website.