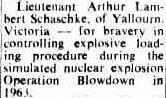 CAN ANY READER  ASSIST - Lt. Arthur Schaschke?
The above extract, regarding Lt. Arthur Schaschke, of Yallourn, was discovered 'by accident' in 'The Canberra Times' (January 1st 1965) on a page which listed the New Year's Honour List for 1965. Lt. Schaschke was awarded the MBE (Member of the British Empire) for bravery during a military exercise known as 'Operation Blowdown' in 1963.
The AWM records indicate that Arthur served in the Australian Army from 1960-69 (Service record number: 18551)
The following notes regarding Operation Blowdown were published on the Wikia.org Military website…
"Operation Blowdown was a military operation that took place on 18 July 1963. Conducted in northern Queensland, Australia by a joint Australian-American-British team, it was designed to simulate the effects of a nuclear weapon on tropical rainforest, using 50 tons of conventional explosive (TNT). A device containing 50 tons of TNT was detonated to partially simulate a ten kiloton air burst in the Iron Range jungle of the Cape York Peninsula…"
CAN YOU HELP?
The Virtual Yallourn website would like to post a photograph and further information about the life of Arthur Schaschke and his connection with the township of Yallourn. If any reader can assist in this matter please contact Julie. Thank you for your help.