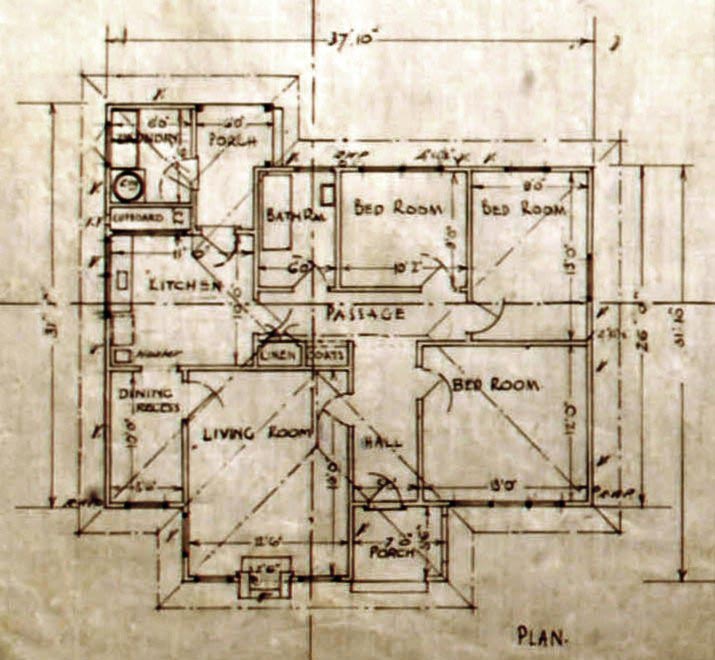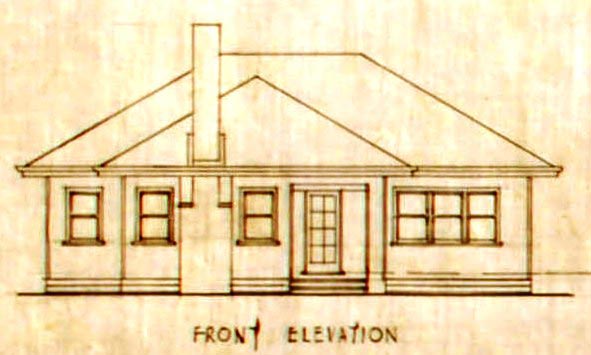 Street Name
Banksia Street
Outside: cream painted weatherboard (later white) with coloured trim around windows etc (at times red/orangey/green) with small semi enclosed front verandah, large semi open back porch with a ramp from driveway, (this was later replaced with an outside open verandah and steps). From the front door there was a large entrance foyer with lounge and 1st bedroom off to sides, at the end of the foyer was the main hall, to the right at 2 more bedrooms, to the left bathroom and linen/coat cupboards, then through to living/dining room with kitchenette. As with No 6 Dad converted these rooms, taking out the wood stove and moving the large pantry cupboard into the new kitchenette. He also built in the semi open back porch which had the laundry/washhouse opening off it. A sewerage system was installed in the town in 1959/60 and the toilet was put in off the laundry. The floors of the house were wood with our own carpets and lino. The walls were painted pine panelling, with the same white and black criss-cross black straps as No 6, however over years the walls and ceilings were painted several times in up to date colours.
Flora wrote that the plan for No 4 Banksia is almost right but when they built houses in those days (as indeed they do now), they tweaked the same designs to make them look different. The design as printed is the same as No 8 (my friend Kathleen's house), however at No 4 there was NO door from the lounge room to the little room off the kitchen, and No 4s fireplace was on the wall next to the pantry (which Dad turned into a kitchenette) NOT at the front.
Nos 6 and 8 and others down that way were built in the late 1920s and were black oiled weatherboards (quite hot in summer!) shaped like this J, ie.curved at the bottom, whereas No 4 and No 2 were "more modern" and built in the 30s and were cream painted weatherboards shaped like this L, ie straight at the bottom. That would appear to be when the design change took place.
There was a place in Green Street where the Cullen's lived that was brick but was the same basic design as No 8 Banksia, just bigger.
Photo & Document References