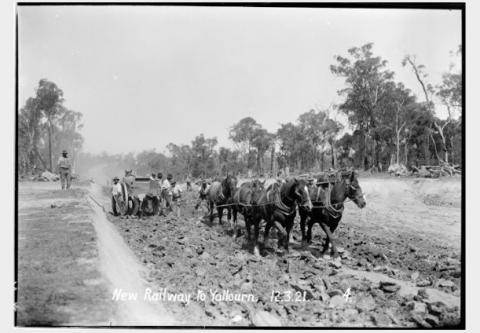 Yallourn - Year by Year - 1927
The first sod in the Victorian Government's  ambitious scheme,  to establish a power generation plant  at Yallourn,  was turned almost a century ago (1921);  and for the next six decades  the township of Yallourn 'took root, bloomed, withered  and  died'….
"Yallourn was swallowed by the coal mine it was built to serve" … 'The Herald Sun' May 2016.
In this series for the Virtual Yallourn website, the monthly activities, shown in each year,  are not necessarily momentous occasions in the town's history  but are simply an attempt to (i) Highlight the personalities of the town and  (ii) List the myriad of events that made the local ( and often national ) news.
The walk down 'Memory Lane' (not to be confused with Meadow Lane which ran off Latrobe Avenue) begins in the year of 1925 when the plans of the SEC were well underway;  and the unique 'garden town' of Yallourn was taking shape and creating interest far and wide. This article, regarding the year 1927, includes a photograph of the township in those early years; and in the words of Banjo Paterson…  "the vision splendid"
To read more, click on the pdf link below: