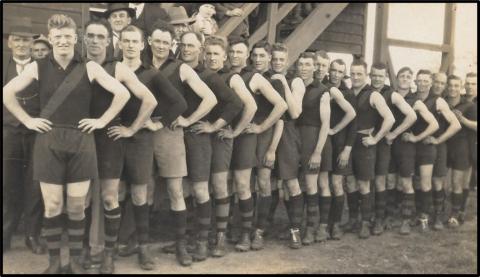 It is recorded this photograph was taken at the 1931 Grand Final of the Central Gippsland Football Association at Trafalgar. The steps of that 'famous grandstand' can be seen in the background. The players from left to right are: Peter O'Neill, Jim Milne, Ted Hassett, Alan Hutton, 'Skipper' Scott, Keith Shepherd, P 'Plugger' Culph, H 'Mossie' Crawford, J. Brookes, Percy Palmer, R. Smith, Jack Piggott, Stan Comber, Ernie Davies, Hugh Graham, A. 'Skinny' Pratt, P. 'Tiger' Page, Les White and Harry Caddy.
A PHOTOGRAPH FROM KAYE BRILL
Kaye Brill kindly forwarded the above photograph of the 1931 Yallourn Football Club team. The photograph belonged to Kaye's grandmother, Irene (Rene) Stanger.
Kaye was seeking information about the playing career of James (aka Jimmy) William Milne, her grandmother's cousin.
While the above photograph has previously been published on this website, Kaye's correspondence is important in confirming the names of all players in the team. Furthermore, the photograph clearly establishes that J. Milne (second from the left) was Jimmy Milne, a star of VFL and country football in the 1920's and 1930's.
THE 1931 SEASON – YFC CLAIM THE FLAG
In 1931, Yallourn Football Club (Yallourn FC) was affiliated with the Central Gippsland Football Association/League (CGFA) (as named in some sources). The clubs competing in the 1931 CGFA season were: Yallourn, Moe, Warragul, Yarragon, Trafalgar and a combined team named Nar-Nar-Goon-Iona (Iona was/is a small settlement near Bunyip). Nar-Nar-Goon won the 1930 CGFA premiership.
Yallourn FC won its way through to the 1931 Grand Final claiming the premiership over Trafalgar FC with a strong exhibition of team football. The final scores were: Yallourn 11.8 (74) defeated Trafalgar 6.6 (42).
Alan Hutton was the outstanding player in the clash; other prominent Yallourn players included 'Tiger' Page, 'Mossie' Crawford and 'Skipper' Stott.
To continue reading this article, please click on the pdf link below.