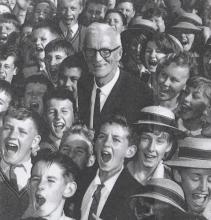 Pictured - John's retirement day - Springvale High School in April 1964
A LETTER OF GREAT INTEREST FROM WINSOME MENADUE
The following beautifully hand-written letter, from former Yallourn resident Winsome Menadue, was recently received in the mail. In her correspondence, Winsome makes mention of the bushfires that threatened Yallourn in 1944; and she praised the actions of the teachers in dousing the spot fires which had rapidly advanced towards the school.
Winsome's letter adds to other recollections regarding the bushfires at Yallourn. These articles can be seen at:  
 http://www.virtualyallourn.com/search/node?keys=bushfires
Many readers will immediately recognise the family name 'Menadue' because Winsome's father, John, was the first Headmaster of the Yallourn High School.  Extracts and photographs regarding John Edmund Menadue have been posted (below) in an attempt to give readers some appreciation of his dedicated work at YHS and involvement in community affairs.
To read Winsome's letter and more about John Menadue - please click on the pdf link below...